How to get a Website with EVERYTHING You Need for under $15!

Now you can have a website with ALL the Cool Features you see on your favorite sites without any programming or design required!
As astonishing as this sounds, in less than 5 minutes you can have your own website live on the internet.

The amazing MyWebPlus.com website builder enables you to quickly build your own professional website, complete with pictures, albums, message boards, polls and much, much more in just a few short minutes.
The secret to this earth shattering technology is an incredibly powerful, yet SIMPLE website builder interface.
This interface is so easy to use over 172,000 websites have already been built using it. Most of these sites were built by people who have little internet experience and some by people who have such limited computer experience they only knew how to use their mouse
---
With MyWebPlus You're Only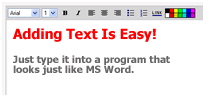 Limited By Your Imagination!
• Your website is totally customizable!
• You can decide to have as many or as few pages as you want.
•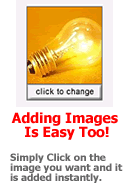 Adding images is hassle free and only requires a simple click of your mouse.
• Easily add cool features like links and guest books or as advanced features like message boards and polls.
• Your site is so easy to use you will always be able to change your site's features, looks and message in SECONDS!
• Entering text directly onto your website is as easy as typing a letter. Your MyWebPlus site includes two text editing tools, one of which looks just like MS Word with all the buttons and commands you already love to use.
---
So Easy, You Can Do It!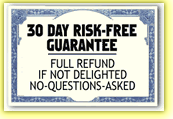 You know you need a website but you don't want to spend hundreds or thousands of dollars for it.
That is exactly why MyWebPlus was developed and is perfect for you. MyWebPlus has taken the most powerful technologies on the internet and combined them to make a super website building tool.
MyWebPlus is the most powerful and easy to use website building system anywhere. It is so perfect that it comes with an unconditional 100% no risk guarantee.
TAKE A WHOLE MONTH and try MyWebPlus for yourself. If it is not for you, all you have to do is request a refund and one will be provided immediately – no questions asked. To get you started you even get a 10 DAY FREE TRIAL to test it out yourself!
---
Dare To Compare

You've seen websites like MyWebPlus sites offered by professional designers and programmers. They cost between $1,000 and $2,500. They are usually designed on MyWebPlus-like software that is exclusive to the design industry.

The problem is that once you get your site, you are stuck with a site that is outdating itself everyday it's online. Since you don't want to be held hostage by a designer's high update fees, you need a way to update your site yourself.
MyWebPlus is the only solution that allows you to have a professional designer-quality website and at the same time give you the ability to easily update it whenever you require.
---
Hear What People
Just Like You Are Saying
"I don't know why everyone does not do it this way, MyWebPlus websites are great and very effective."
- Garfield McCormick,
Website Usability Expert

I never knew how easy it could be to get a website!"
- Darryl Lavelle,
Aircraft Mechanic

"The websites are idiot-proof. I just entered my text, picked my features and my site was done. No problem!"
- Janet Nixon, Accountant
"With the money I saved using MyWebPlus, I can now invest in marketing my site."
– Robert Lazaro,
Audio Retailer

"MyWebPlus is probably the best kept secret on the internet!"
- Ryan Sharp, Salesman

"Great service, great product, great people, great price. You guys are more than a service, you're a part of my team."
– Kevin Lawrence,
Business Coach
Full-Time Support
MyWebPlus wants to ensure you get the website you have always dreamed of.
If you ever have a question, you have the comfort of knowing a MyWebPlus Support Team Member is there to help you.
---

Your business needs a website and MyWebPlus wants to ensure it gets one. That is why there is always a MyWebPlus Support team behind you ready to help if you ever need it - FREE!
No where else on the internet does anyone dare to make this offer.
Try It Now, You Have Nothing To Lose!
You get MyWebPlus's FREE 10 Day Trial, 30 Day Money Back Guarantee AND MyWebPlus' Online Success Guarantee which includes Free Online Support to help you finish your site.
This is an amazing deal and an opportunity that you should not pass up. You know your business needs a website, it's time to get one.